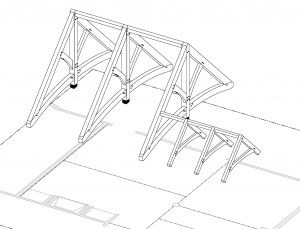 We recently completed a project in Ft. Loramie, Ohio. The frame consists of two separate truss systems, one in the lodge room of the house, and one in the foyer. The client visited the home of an earlier client of ours, loved what they saw, and wanted to include timber framing in their own house. It's infinitely gratifying when that happens.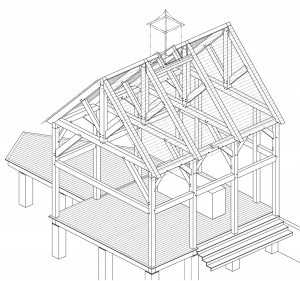 The Cochran timber frame, a project a few years in the making, was recently erected outside of Pittsburgh, Pennsylvania. the frame was #1 white oak with a dark stain. It will serve as an outdoor cooking and lounging area and boasts a fine view of the surrounding hillsides and forests. The contractor for this project was Kacin General Contractors of Murrysville, Pennsylvania. This was our second project with that company. Both projects were highly designed outdoor recreation structures.
We also recently completed the installation of a small timber project in downtown Manhattan at the Institute of Classical Architecture, our second project in the city. It came as a bit of a surprise that there was no freight elevator in the building, and the passenger elevator was too small for the timbers. Each and every timber had to be hand-carried up to the fourth floor – a feat of brute strength and sheer stamina!