After quite some time in design and budget development, engineering and contractor reviews, permit and zoning approvals, this rough-sawn white oak timber frame in Old Greenwich, Connecticut is now proceeding apace. The frame encompasses a great room with second floor bridge, kitchen, dining room and master bedroom. This is one of two projects we're currently working on in southwestern Connecticut.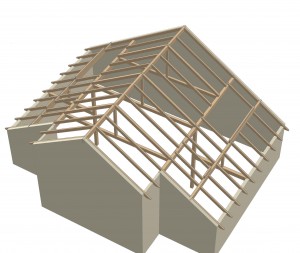 Lancaster County Timber Frames, Inc. was recently retained by the U.S. Department of the Interior National Park Service to inspect and evaluate a large barn that is part of the Eisenhower Farm in Gettysburg, Pennsylvania. The barn was built in the 1830's and it's likely that it served as a field hospital during the Gettysburg battle.
A timber frame for the Marino Corporation of Skippack, Pennsylvania is now nearing completion in our shop and is scheduled for erection the week of September 19th. The Douglas fir frame us a post and plate with common rafters roof system. LCTF is also supplying and installing Lock-Deck roof decking. This is our fourth project with Richard Kapusta and Associates.