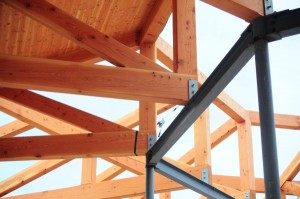 Country Meadows
The erection of the 80′ octagonal frame at the Country Meadows Retirement Community in York, Pennsylvania was completed last week. Because of the low roof pitch, the structure bears a slight resemblance to a flying saucer, an impression that will surely become stronger once the roof boards have been installed. That work is continuing this week. This project is our first with Alexander Design Studio of Ellicott City, Maryland, and our second with eciConstruction of Dillsburg, Pennsylvania.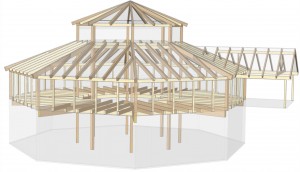 Flower Kitchen
We've also just completed and shipped a small retrofit frame for a client in Mendham, Jersey. The frame consists of a fairly massive ridge beam, rafters that lay flat on the ceiling of kitchen, and curved, scarf-jointed chords wrapped with steel bands at the scarf joint. The contractor is Flower Construction of Mendham, New Jersey. This is the eighth timber frame we have done with them. For more and to see some of the projects we've done with them go to www.flowcon.net.
Camp Blue Ridge
The owners of the Camp Blue Ridge in Equinunk, Pennsylvania have selected Lancaster County Timber Frames to carve and erect an 8,000 square foot timber frame for a new creative arts and wellness center. The center is octagonal in shape with a lower and upper roof, timber first floor framing, and a timber framed entry. Posts in the center of the octagon extend into the lower level, while the perimeter posts rest on masonry foundation walls. The raising is scheduled for late 2011. The general contractor is Jeff Adams Construction of Equinunk, PA. The architect is Beth Vail of New York. For more information on Camp Blue Ridge copy and paste the following URL into your browser: www.cecbr.com.
Crossway Church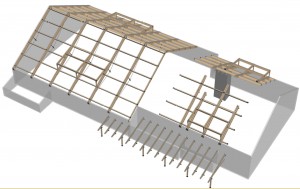 Lancaster County Timber Frames was also recently awarded a contract to fabricate the massive glulam members for the roof system of a new meeting house for the Crossway Church congregation in Millersville, Pennsylvania. The rafter assemblies for the main area of this structure have an inverted compression post with cable tension ties and are just short of 60′ long. The project scope also encompasses a porch area and a lobby area. The glulams are connected with custom-fabricated steel hardware. The architect on this project is Tono Architects of Lancaster, PA; the general contractor is CH&E Construction, also of Lancaster, PA. For more information about Crossway Church go to www.crosswaypa.org.