The Zimmerman Center for Heritage
Just south of Wrightsville, Pa – in Long Level, PA – a fascinating structure, with nary a 90 degree angle, was recently erected. Custom steel hardware, glu-lams, 3″ thick laminated roof decking – at water's edge overlooking the Susquehanna's Lake Clarke, this pavilion is part of a larger enhancement program that includes pathways and boardwalks at the waterfront. A grand opening is slated for late spring 2014.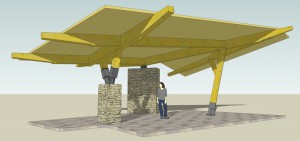 Private residence in the greater Allentown, PA area
This residential project consists of a great room, master suite, kitchen and dining area, and full length front and rear porches. The frame will be white oak and will be covered with a built-up roof. A March 2014 raising date is scheduled.
A Whole House Timber Frame Overlooking the Lehigh Valley
A Douglas fir timber frame defines the entire volume of this small house on a heavily wooded mountainside overlooking the Lehigh Valley. A March-April raising is planned.