A few months ago Lancaster County Timber Frames contracted with Frankoski Construction Company of East Orange, New Jersey to design, fabricate, and erect a tree canopy walk and tree house for the Kean University School of Environment Studies. The walkway is located in Oak Ridge, New Jersey, atop Mt. Paul, a former Catholic retreat and monastery, and meanders through the woods at tree-top level for almost 1,000 feet.
The conceptual drawing attached is from the architect's firm, Grimshaw Architects New York. The engineer of record is BuroHappold, New York. Lancaster County Timber Frames is working with Tamarack Grove Engineering of Boise, Idaho to finalize the contractor-delegated design of the glulam and steel structure. Parts of the walkway are over 50 feet above the forest floor. A three story tree house provides bleacher seating for classes conducted by Kean University faculty.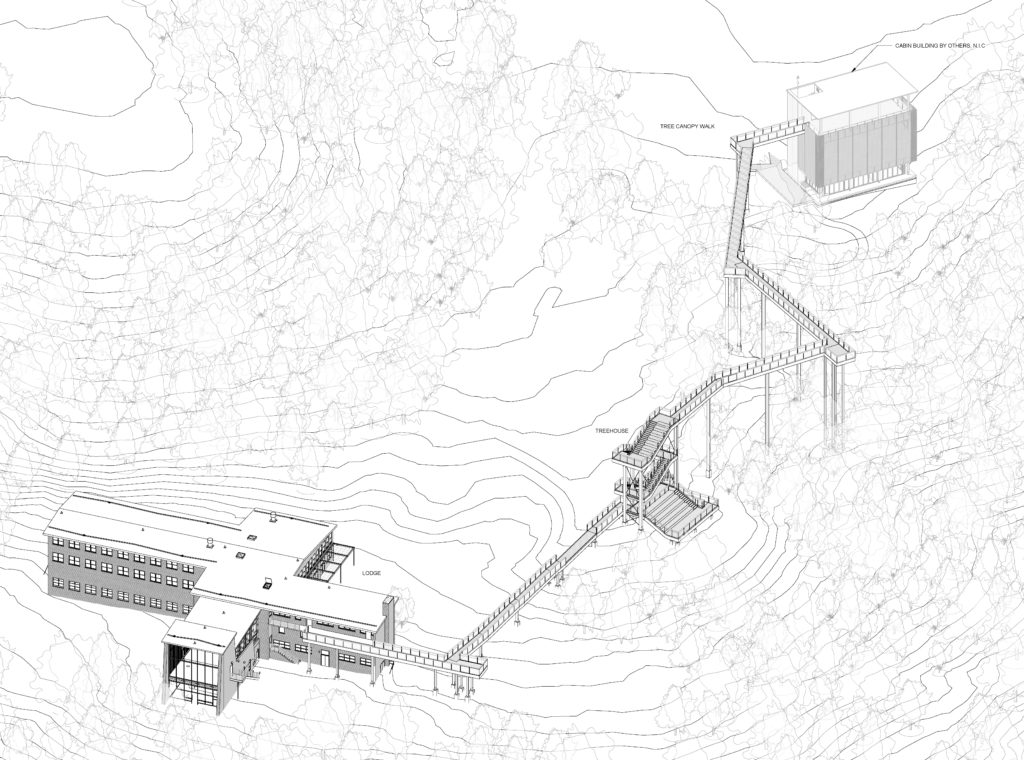 Lancaster County Timber Frames' axonometric drawing of the glulam and steel structure (click on the link below) shows the partial scope of our involvement in this project. It doesn't show the decking and bleachers, which we will also be installing.
KEAN HIGHLANDS – B&W IsoVw – 12APR17
The project is currently in engineering review. Fabrication is expected to start this Fall 2017, with erection following later in the season. The erection of the glulam and steel structure is scheduled in three separate phases. The walkway itself will be decked with responsibly-harvested machiche decking from Mexico. The southern yellow pine glulams were supplied by Structural Wood Systems of Greenville, Alabama. Stay tuned for updates once this exciting project moves into the fabrication and erection stages!