Your Home Design, Our Design Choices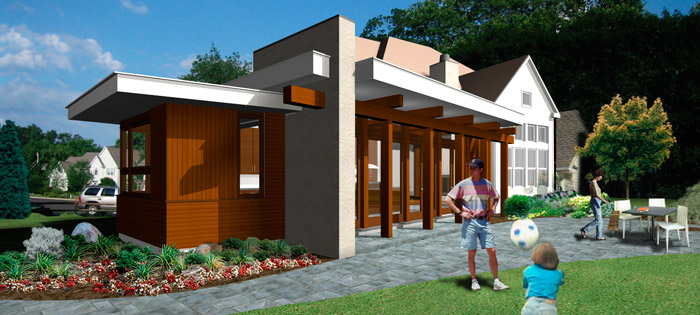 If you're interested in building a timber frame home, by definition you're interested in home design. There are lots of ways the design process can be handled, and here at Lancaster County Timber Frames we've worked with just about any variation of the process imaginable. Since every project we do is custom, every new project requires us to shift gears and adapt to project specifics.
The many permutations of the design process that we experience could be described as a continuum, from a complete design package arriving at our doorstep, to just the barest inklings of an idea.
Click topic to view more
You Bring Us a Complete Design
Some clients — whether homeowners, architects or builders — come to us with a complete set of plans, including a fairly well fleshed out timber frame design. The most we have to do is refine and amplify the timber frame design, do a little bit of engineering, and submit a bid. We're always happy to work with your designer or builder, and over the years we've developed strong working relationships with quite a few.
An architect that has a bit of experience in designing for a timber frame has a leg up, but it's by no means essential. One of the things we think we do well here at Lancaster County Timber Frames is help designers and builders understand the peculiarities of timber construction so that everything goes smoothly.
We Develop the Design with You from the Ground Up
A lot of our clients have been noodling their timber frame home ideas for a long time, and sometimes they have a pretty well-developed idea about what they want before they even call us. They may have identified the style of timber framing they want, and some even have CAD or hand drawings to show us. Another variation of the actively engaged client that we frequently encounter is one that has found a plan in a magazine or online that they love, but they want to change a "few little things".
We can work with you in two different ways to flesh out the design: one, we can take your ideas and create construction drawings that you can take to your bank and your building department; or two, we can refer you to an architect or building designer to round out your design and get it ready for bidding and construction. We're happy to handle it any way that makes the most sense, from any point of view — budgetary, aesthetic, scheduling, or whatever else.
Engineering
Gone are the days when a timber frame home could be built with a few sketches and a skilled journeyman timber framer. The reality of modern construction codes is that most, if not all, residential and commercial structures have to bear the seal of a licensed professional engineer (P.E.), certifying that the design drawings describe a viable structural system. We have two engineers here at Lancaster County Timber Frames, but all of our design work is reviewed and sealed by a third party P.E. licensed in your state. Every timber frame project proposal includes the costs of this engineering analysis.
Past clients have asked us why this engineering review is necessary, when timber frames have stood the test of time, sometimes for many centuries. This is true, but some of the timber frames that aren't around anymore didn't get dismantled — they dismantled themselves. Engineers have an important role in greatly minimizing the risk of that happening, and the occasional contortions builders have to go through to get an engineering seal is usually a small price to pay for peace of mind.
Construction Documents
Occasionally, we're asked to prepare a full set of construction drawings. Every one of our designers has years of experience with building technologies, CAD design, and construction practices. One of our designers is certified by the American Institute of Building Design, and the others are working towards certification.
Our construction document sets are tailored to satisfy the specific requirements of your municipal building department and your general contractor. A building department usually wants to know about things like codes and zoning ordinance compliance, taxable living area, structural soundness (sometimes), and so on. A builder wants to know how he's expected to construct the house so that he knows how to bid the project. Neither of these entities is too concerned about the details that will affect the overall feeling and architectural virtues of the house, except insofar as they affect their areas of authority or their bottom lines.
And different construction jurisdictions and general contractors differ widely in what they need to see. We've had clients who got a permit and a builder with drawings that were little more than a napkin sketch. In other cases, our drawings have had to satisfy multiple bureaucracies and demanding builders. Whatever your situation, our architectural and construction drawings will be tailored to fit your needs.
Do I Need an Architect?
It depends. A lot of the projects we handle that have been architect-designed are projects that have a high level of design identity — they're "highly designed." That is, the creative hand of a professionally trained and recognized architect has touched every minute aspect of the project. An architect can include as much information and detail in her design as you want, and might even be quite happy to tell you what you should and shouldn't like.
Our "complete" design packages, in contrast, assume that you will be actively involved in decisions about all kinds of design-related matters. You might actually spend time with your builder shopping for everything from wall coverings to roofing, from plumbing fixtures to lighting fixtures.
In sum, we offer a construction document service that is right for some clients, but not for others. We can help determine which approach to the design process will work best for your project. If it seems the best course is for you to employ an outside design service, we'd be happy to recommend some of the architects we've worked with over the years. If it looks like working on the design with us from soup to nuts is the best route, we'll be happy to discuss the scope and range of our services in greater detail with you.
What Do We Do When We Quote a Timber Frame Project for You?
Typically, when a prospective residential client contacts us about a project they're planning, we take whatever information we can get and develop a conceptual approach to the project. What this means in practice is that we will do a fairly quick conceptual design, which includes a virtual 3d model of the timber frame, and sometimes even a simple virtual model of the house. This conceptual design tells us exactly how much material and labor will be needed to complete the project, and is the best basis for tendering a responsible and fair budget proposal.
Depending on the completeness of the information we are working with, we can get pretty close to the mark right out of the gates. We'll send you a .pdf version of the drawings along with a written budget proposal. If nothing changes in this first conceptual design, you can pretty much take the proposal price to the bank.
We don't charge for this service, unless we have arranged with the client beforehand to provide fairly extensive design services. The work we put into one of our "free estimates" represents a speculative investment on our part in our prospects for working with you. We realize that not every client we provide these estimates to is going to end up working with us, but we do hope that prospective clients who have solicited project bids from us will acknowledge the amount of effort we put into an estimate, and pay us the compliment of letting us know where we stand with them, even if they decide to go elsewhere.
From our point of view, this first round of design drawings is helpful to establish a baseline for your design sensibilities and budgetary constraints. It's a first pass, nothing more. It helps to focus the design process on important issues. In other words, it's easier to say what you do and don't like about a design if you've got something to look at, than if you're speaking in the abstract.
Copyright Issues
If you've been scouring the magazines and internet for plans and ideas one thing to beware of is the "small" matter of copyright. In an age of vastly expanded access to information, intellectual property rights conflict is actually a very big deal. It's also big business — copyright lawyers have been called the new personal injury lawyers. And copyright infringement is a matter for the federal courts — really. Apart from the ethical issues, the penalties make it just not worth it to trifle with this law.
If you've worked with other designers before coming to Lancaster County Timber Frames (especially on the timber frame design), we have to make sure that the designs you're asking us to work with have been legally acquired. It used to happen fairly frequently that a prospective client would approach us with some drawings from one of our competitors and ask us to do something with the design — bid on it, develop it further, enlarge it, reduce it, make it snazzier, etc.
We understand the need to be sure you're getting good advice and not being taken advantage of — in short, to get a second opinion. From our point of view, though, we'd rather not see our competitors' drawings, especially not if we're being asked to bid on the project from those drawings. Conversely, we expect that our drawings won't be shared with other timber frame companies, either. As a courtesy to our competition, when we receive a set of drawings with a competitor's title block, we routinely give them a call to see if the drawings are rightfully the client's to disseminate. If they're not, we just have to decline to bid on the drawings.
What we'd really much rather do is develop a new concept based on your project program, without looking at someone else's drawings, unless your right to use them is clearly established. This doesn't really allow you to get a "true" apples to apples comparison, but the "true" apples to apples comparison is a bit of an urban legend anyway.