Why Lancaster County Timber Frames?
"our recommendation rate is 100%"
This is the part where you're expecting us to toot our own horn. But we'd like to let someone else toot it for us.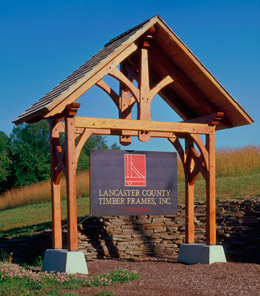 To the best of our knowledge, we're the only timber frame company in the country that has engaged an independent third party organization — Guild Quality — to survey our past clients. Each and every one of our clients, builders, or architects, is surveyed by Guild Quality within a year after project completion. Our clients' responses and evaluations are published on Guild Quality's website — unedited.
We can't pick the clients we think will give us the best feedback — we're contractually obligated — and audited — to provide all our clients' names and project information. We've been complying with this program since 2009 (over 70 projects), and our recommendation rate is 100%. We think that toots a pretty loud horn.
Ok, ok, we really do have to beg your indulgence for a just a little shameless self-promotion. Here are a few of the things that we think set us apart from our competitors:
Hand-Crafting
We think that CNC (computer numerical control) machines are great for working with homogeneous materials like plastics and metals. But they're much less competent when working with an organic material such as wood, where the critical eye of the craftsman and the passionate soul of the artisan guiding an edged tool still holds the advantage. Our best craftsmen have told us that if we ever let a CNC machine in the door, they're going to march right out that door. Not that we needed this threat to make up our minds.
A notable trend in the industry is the emergence of the so-called "virtual timber framer". This is a company that puts itself out there as a hand crafted shop, but then outsources their projects to a machine shop. They might do a little re-work on the frame, and then put the frame up. But the personal, passionate investment of the dedicated craftsman is missing. Building a timber frame structure is something you just don't do unless you are passionate about it. It just doesn't seem right to us for the fabricator to take the passion out of the process.
We Raise Our Own Frames
We don't farm out the carving of our frames, so why would we sub out the raising? In our company, the craftsmen that design and carve the frame are the same folks who show up at your job-site to erect it. We figure nobody is going to understand the frame and the house it goes with better than these guys, and nobody is going to take care of handling the frame, and making sure it is exactly what the our clients expected.
The Details
Quality is our mantra. It is reflected in everything we do, from each joint being initialed by the craftsman that carved it; to a housing for every joint, however difficult that is to accomplish; to the wrapping of the timbers before transporting them and owning our own erection rigging and gear, so the timbers are never touched by anything that might mar or scuff or dirty them. We never forget that the timbers are going to be a magnificent part of your home.
Financial Stability
At LCTF we've always said that ours is a small company and that we'd like to keep it that way. Of course we've grown, but we've tried to manage our growth responsibly. During the last couple years of economic uncertainty we've been rewarded for this prudence by being able to weather the building industry downturn with a mercifully small impact. We've remained in good standing with all of our suppliers, while other companies have faltered; and while we, like other companies, have a bank line of credit, we keep it in our back pocket, unused. The company has almost no debt, unlike some larger firms that focus on volume, and we will have full ownership of our facilities in another year and a half.
Ownership and Experience
Other than an engineering graduate who we hired in the last year, every employee at LCTF has been with the company at least five years, and all of them own a portion of the company. The two founding partners have a combined experience in the field of 50 some years. We take great pride in our team, and when we do welcome new hires, we look for experienced timber framers who want to be a part of the "family".
Awards and Accomplishments
Our work has been recognized by local, state, national, and international awards. (Go to our awards page) It has graced the covers of half a dozen magazines and has been featured in numerous publications. (Go to our publications page) One of our projects was even made the focus of an HGTV "Dream House" series. We've written most of articles on timber frame hybrids as well as a book on the subject.
Repeat Business
Many of our business partners — general contractors and architects — have been working with us for quite a few years. Having the chance to develop a relationship of trust and a spirit of collaboration is one of the most rewarding parts of what we do, and makes every repeat project a pleasure, even if thorny problems arise.
Notable Projects and Clients
We approach every project we do with the same passion and commitment to quality. Occasionally, though, we're honored to participate in a project of note, whether because of the scale or the level of complexity or architectural originality, because of how conspicuous the project ends up being, or the celebrity of the client. Here's a list of some of our notable projects and clients:
Projects
The Clubhouse at Pine Barrens Country Club, Lakehurst, New Jersey
The Wedge Restaurant at Liberty Forge Golf Course, Mechanicsburg, Pennsylvania
The Longenberger Barn, Frazeysburg, Ohio
St. Mary's Catholic Church, Johnson City, Tennessee
Notaviva Vineyard, Purcellville, Virginia
The Three Season Room at Gulph Mills Country Club, King of Prussia, Pennsylvania
The Gettysburg Battlefield Museum and Visitors' Center, Gettysburg, Pennsylvania
The River Restaurant and Brewery, Radford, Virginia
The Great Harbor Yacht Club, Nantucket, Massachusetts
The I-70 Visitors' Center, Frederick, Maryland
Clients
Doug Allen, Weatherman at WGAL (NBC affiliate)
Dallas Green, Philadelphia Phillies
Prosser Mellon, Patriarch of the Mellon Family
Rusty Leaver, Owner of the Country's Oldest Cattle Ranch (Founded 1638)
Arnold Palmer, Golfer
Bob Wright, President of NBC
Jim Johnson, Patriarch of the Family that Founded the Johnson & Johnson Company
Environment
A company like ours is a part of the whole social fabric, and we believe that giving something back to the society should be an integral part of the way we do business. One piece of this is our commitment to environmental responsibility. All of our timber materials are harvested from sustainably managed forests. The same forest products companies that supply Forest Stewardship Council materials supply us. We use only low VOC finishes, and optimize our production and material usage to save on waste.
We donate our timber off-cuts to some of our needy neighbors for firewood to heat their homes. We frequently donate money, our time, and materials to Habitat for Humanity. And we've been contributing to the Child Fund International for over a decade, as well as recently becoming a sponsor of the SPCA.