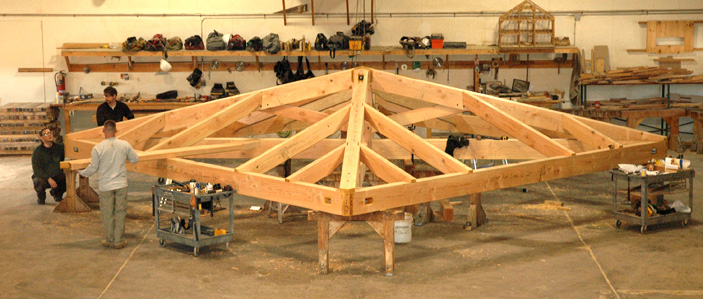 Where to Begin?
The process of building any custom home — let alone a timber framed custom home — can appear to be a veritable minefield. Sometimes it is, but it can also be a lot easier than you might think. Actually, it can — and should — be a pleasurable and stimulating adventure. When the construction is finally done and the dust has settled, you will have a new dwelling that you can take comfort and refuge in, and relate to like no other house. The construction process will be the beginning of a story, and soon it'll be time for you to start writing the middle part of that narrative.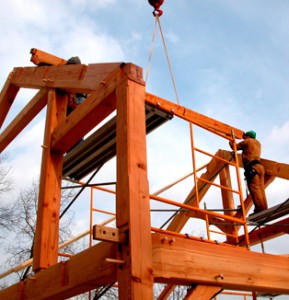 If you hire us to build your timber frame, we'll be helping you to write a part of that story, too. It can start in a myriad of different ways. Some of our clients come to us without anything more than the certainty that they love the unique environment of a timber-framed dwelling. If that describes you, we can start off by helping to give form to that idea. Some of our clients employ us to provide the entire package of design services, from the first bubble diagram to the completed set of construction documents with professional engineer's seal. (See "Your Timber-framed Home, Our Design Services")
At the opposite end of the spectrum, there are clients that have already worked with architects, designers and builders before our phone even rings. Your design/build team might be putting a finished design out to bid, or might be looking for a timber frame design professional to consult with on the nuts & bolts — or mortises & tenons — of timber framing, putting the finishing touches on the design.
There are as many permutations, it sometimes seems, of these extreme cases and everything in between as there are timber frame projects. However you approach the process, though, we like to consider ourselves a part of the team that will help to make your timber frame project a reality.
The Process
So what does the process usually entail? Not everything happens in the same order as listed below, but typically the process breaks down into a few basic stages:
The Decision
First, of course, comes the decision to build a timber frame home. For many of our clients this decision is made during a gestational period that may have lasted years. Some clients come to us early on, even before they've actually determined whether they can afford to build a timber frame. We've found that clients who have carefully researched timber framing and timber framing companies often find it easier to make decisions along the way.
Getting a Handle on Your Budget
At this stage, one of the questions on almost everyone's mind is: "How much do timber frames cost?" (See "Money Matters" page) A timber frame will definitely cost more than a conventionally built house, but how much more is hard to say, at least until a host of variables has been pinned down. There's no simple pricing formula for a custom-designed and built timber frame. And it makes no sense at all to embark on one of the next stages — the design phase — without answering a related question: "How much can I afford, or, how much do I want to spend on my timber frame project?" Once you have an approximate figure in mind, you can start to ask the question "How do I get the timber frame that I want for the money that I can or want to spend?"
Unless you've put all the money aside that you will need for your project, you would also do well to give a little thought to financing arrangements. It's happened more times than we care to recount that a client gets a full head of steam up, only to find out that the bank isn't going to play nice after all. Some banks have no experience with timber frame homes, so shepherding the financing package through the construction loan and mortgage process can be rocky. There are financing companies out there, though, that do understand timber frame projects, and these companies will, in general, be easier to work with.
Your Land
Don't forget, though, that you've got to have a piece of land on which to build your house. Most of our clients — but by no means all — have already found and bought the property they want to build on. Once you know what the land looks like, you can begin to envision the house that you want to live in on that property. Any good architect or designer — or timber frame designer — should be able to help you understand how to situate your house on your land. Experiencing the property in all four seasons, if you have the time, is helpful. The point of this is to be able to optimally design your home — to fit your budget, your unique personal style and desires, and to maximize the use of your land.
One consideration that is all too often overlooked: will the building and zoning authorities allow you to build the kind of house you want and where you want it? It seems obvious, but you'd be surprised. We've had projects stored in our warehouse for up to five years while our clients thrashed out an answer.
Finding a Timber Framer
At some point, you're going to have to start looking for a timber framer. We've had clients who've spent a year or two vetting us, come to see our operation and projects several times, solicited bids from numerous competitors, checked our Dunn & Bradstreet report — the whole shooting match. We've also built frames for clients halfway across the country whom we've never met (they put the frames up themselves) other than through email and phone conversations.
By far the best way of handling this part of the process, though, is to get to know the timber frame company. You're going to be spending a pretty fair chunk of change, and you're also going to be spending a lot of time with the company's designers and craftspeople, and even with the office manager. All other things being equal, we feel that the relationship is probably more important than anything else in making this decision. The quality of your relationship will leave its mark on the whole process — and by the way, this works both ways — from before you even sign a contract to the time the last timber has been joined into the frame.
If at all possible, visit your timber framer candidates, several times if possible. Try to get a flavor for the way they work, and if you think your styles will be compatible. Money is going to be an issue, so make sure to get your questions on the table right from the start. This doesn't mean that the lowest estimates should be the only ones to get your attention — in fact, quite the contrary. It is fairer to everyone to try to establish a base line for the things you want in your timber frame, and then work to develop enough trust in a company to advise you on the realities of cost and quality. And "trust" is the key word here. (To learn more about the factors that affect price, click here to go to our "Money Matters" page.)
Another keyword is "communication". If your styles of communication don't mesh, and if you're not satisfied with the level and quality of the communication, get ready for a bumpy ride. Building a quality timber frame home relies heavily on the quality of communication between all members of the design and construction team.
The bottom line: You're going to be in a partnership with your timber framer, one that will last anywhere from a few months to a year or more. Make sure that the one you choose is the right one for the journey.
Design
There are as many ways to design a timber framed house as there are timber framed houses — well, maybe not quite, but you get the point. Most timber frame clients are so thrilled with the craft and the look and feel that they tend to be intimately involved in the design phase. The design phase can start as early as the first stirrings of your imagination, or later in the process, say, after you've bought land and started to look for a timber framer. You can have the house designed by an architect or other design service, or buy a set of house plans online, and then find a timber frame company to expand the design to include the frame.
By far the best method, in our humble opinion, is to bring a timber frame designer in at project inception. Finding a timber framer you feel comfortable working with becomes a part of the decision-making process, rather than an afterthought. A whole host of mistakes in the design process on up to final construction can be avoided by having a timber frame designer involved at the earliest stages. And there's an inherent cost-savings associated with this approach, as well, avoiding the common pitfall of having to re-design and re-re-design the house, the frame, and everything else, in order to meet your budget. For more on the design process, go to our page "Your home design, Our design services".
Finding a Builder
Some timber frame companies strive to offer a complete package of services and products — from architectural and construction design on up to the house keys. The attractiveness of this option is obvious: no need to orchestrate multiple players' activities with all the inherent pitfalls of that approach. Unfortunately, this approach, for all its convenience, lends itself to a one-size-fits-all mentality. It will be a lot harder to get a home tailored to your vision using this approach. So unless you want to either settle for a cookie cutter product, or stand up on the conductor's podium and direct everyone yourself, you're going to need a general contractor to get your timber frame home built. Finding the right person and/or company for the job is, well, a job.
Since there are so many different kinds of timber frame projects and clients, it's hard to make any prescriptions about how, and at what point, to start looking for a general contractor. Your timber frame company should be able to recommend contractors that they've worked with in your area, and this is usually a pretty reliable way to find the right one. If the general contractor has some experience with timber frame homes, so much the better, but that's not absolutely essential. The timber frame company will easily be able to bring any competent builder up to speed on what's different about timber frames.
You don't need to have a finished set of construction documents to start vetting general contractors, but you won't be able to start getting a handle on budget until you have at least an architectural set with some basic information about the building. You might want to get to know the builders first, and see some of their work, before even turning a set of drawings over to them for bidding. In this case, you can start the selection process as early as you want.
In our opinion, it's best not to wait too long to start interviewing contractors. You don't want the selection to be just an afterthought. Competent builders can provide a wealth of extremely valuable guidance on things that will affect the price of the finished project. As with most things in a timber framing project, developing a relationship of trust early will pay dividends later in the process.