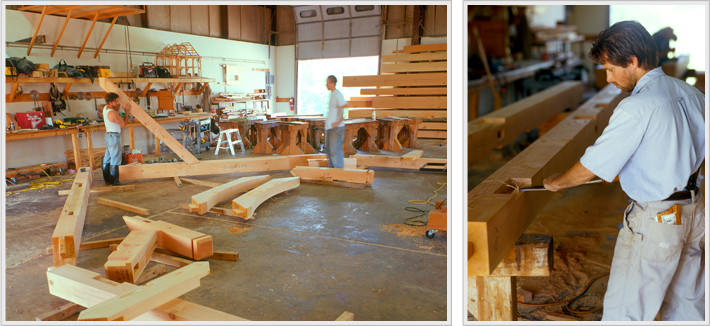 Shop & facilities:
We've had as many as 5 projects moving through our two shop buildings simultaneously. On sunny days in all but the winter months the doors are opened up and the work spills out into the outdoors, in the heart of York County farmland. Timbers are never left in a stack outside, though. Everything is stored indoors to make sure that we — and you — have the best quality raw material available.
Design office:
In addition to three full-time designers, at least three more of our shop floor craftsmen are conversant with the design process and software, and when we have a heavy design work load they can pitch in to keep things moving swiftly and smoothly. Having designers experienced in shop and site work, and craftsmen experienced in the design end of things, is one of the keys of our quality control program.
Front office:
Our back office — which is actually in front — is the nerve center for managing project flow and all the little nuts and bolts that go along with that. All communication passes through Amy Good's very capable hands.